Water Tanks and Tankless Water Heaters
Water Heater Repair and Installation
As licensed master plumbers, Blakeslee & Son has been serving the Rockford and Grand Rapids area with water heater services since 1948—over 75 years!
We are experienced with traditional gas or electric tank water heaters and tankless water heaters. You'll get rapid water heater repair, maintenance, or installation when you call our office at 616-866-1921. 
How We Can Help
Diagnose A Water Heater Problem
Office Hours
Monday–Friday: 8:00 AM-4:30 PM
Saturday–Sunday: Closed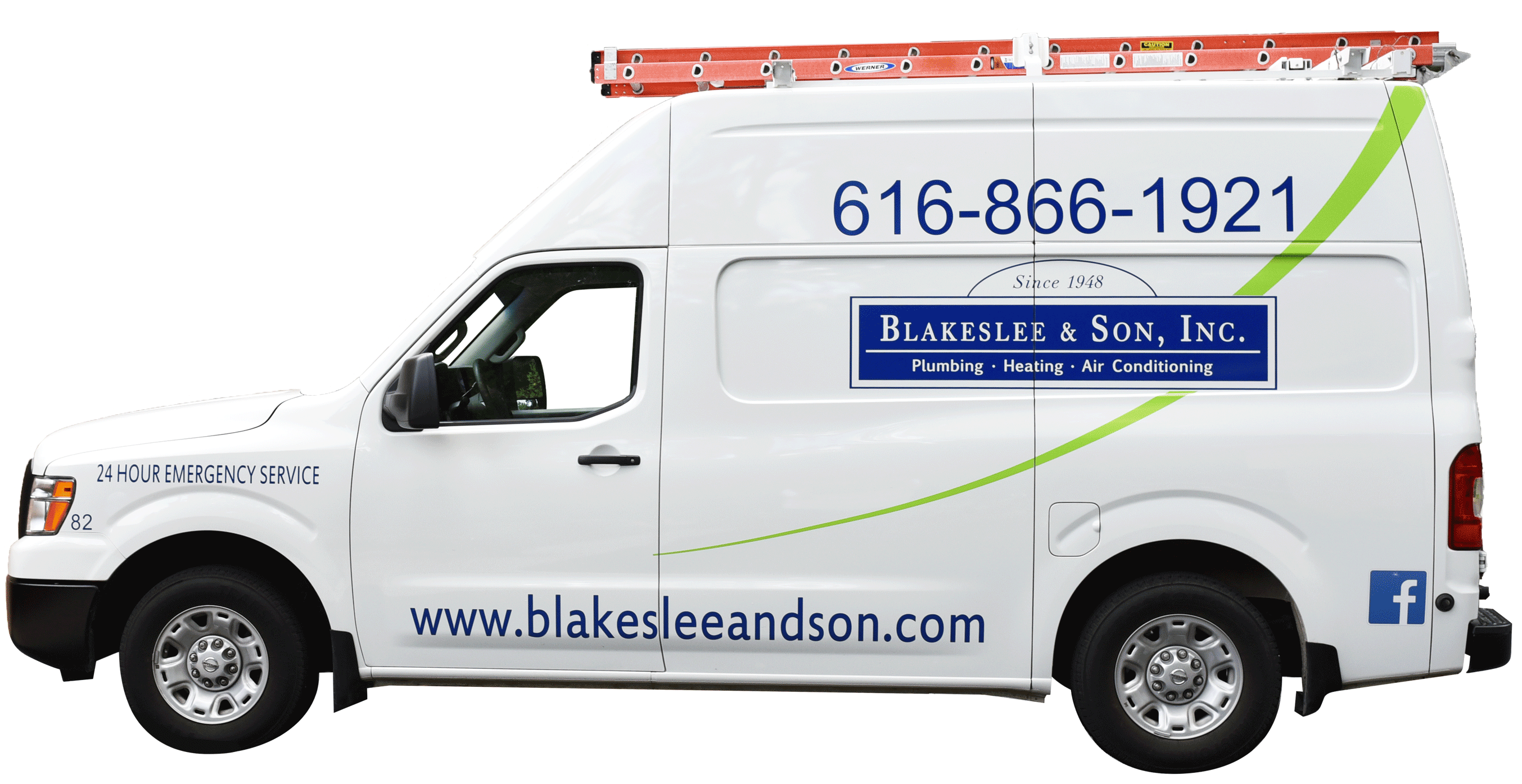 Emergency Service
Available Every Day from 8 AM – 8 PM

---

Get Immediate Water Heater Repair
Without hot water? Call us any time. We'll be on the way as soon as possible!
Call 616-866-1921
Water Heater Installation, Maintenance, and Repair That's Made to Last
Residential Water Heater Repair & Installation
We install and service a variety of water heaters, including:
Traditional water tanks: Electric, Gas, Ultra Low NOx, Heat Pump

Tankless water heaters: Non-condensing Gas, Condensing Gas
Whatever your family's hot water demands are, we install, repair, and replace water tanks in a variety of size capacities:
60-gallon water tanks

50-gallon water tanks

40-gallon water tanks
We are preferred installers of Bradford White water heaters and Navien on-demand water heaters.
Residential Water Heater Maintenance
Get regular maintenance on your water tank to get the most out of its lifespan and your investment! We've been helping the Grand Rapids and Rockford communities with regular water heater maintenance services like:
Flushing your water heater

Replacing old, worn, or defective water heater parts

Anode rod check and replacement

Testing the temperature release valve
Blakeslee & Son are Rockford Michigan's Preferred Water Heater Installers: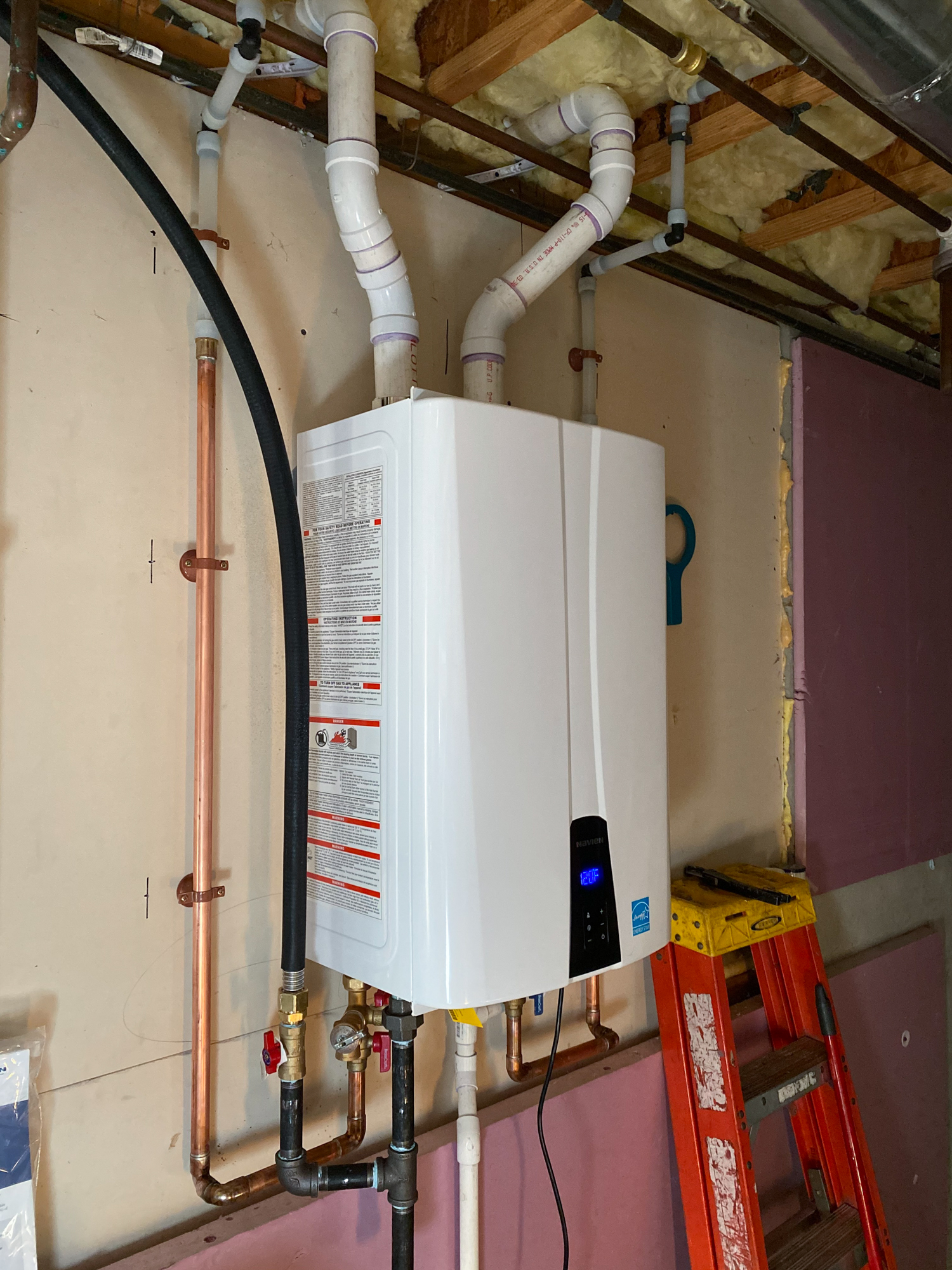 Is a tankless water heater a better option for you?
Is your water tank on its last leg? Consider replacing it with a tankless on-demand water heater instead of putting money into water tank repairs. We're Rockford's preferred professional installers of the Navien tankless water heater brand.
Endless hot water to your home
Virtually no maintenance required
High efficiency keeps your utility bills low
See if a tankless water heater is a worthwhile investment for you.
Rapid Water Heater Repair & Service
Need your water heater replaced or repaired? Need water heater maintenance? Get on our schedule immediately when you call our office!
""Blakeslee & Son installed a new water heater, new water softener, and filter, replaced the well pressure tank, and fixed several plumbing pipes due to aging. I never thought I'd say that going through all that would be enjoyable, but it was!"
Get a quick response to your hot water issues any time you call our office. Additionally, we'll be able to help you in all areas of your home appliances from plumbing to HVAC to air quality.
75+ Years Serving Rockford & West Michigan
Financing offered for all installations and services
No gimmicks, no sugarcoating, and no price-gouging
We stick around until the job gets done — we're not comfortable until you are!
Won't leave you without a solution or fix
The Blakeslee Guarantee
When you work with Blakeslee, you have our guarantee that you'll get:
10-year warranty

on Blakeslee parts and labor

6-year warranty

on Bradford White water heaters

1-year warranty

on Bradford White water heater labor

5-year

warranty on Navien on-demand water heaters

1-year

parts and labor warranty on service calls for Peak Protection Plan members

30 days

parts and labor warranty on service calls for non-members

Financing options on all installations and services
Problem with your water heater? We'll help you solve it.
We're proud to be Kent County's "water heater people" since 1948—not only with rapid water heater repairs but with helpful, honest solutions to whatever water heater problems you have.
Rapid Water Heater Repair In West Michigan
We're proud to operate in these and other communities throughout West Michigan: