Tankless Water Heater Repair, Installation & Service
Get Rapid On-Demand Water Heater Repair in West Michigan
Are you running into problems getting reliable, consistent hot water from your water heater?
We install, service, and maintain tankless or on-demand water heaters in and around our office in Rockford, Michigan and throughout West Michigan.
Office Hours
Monday–Friday: 8:00 AM-4:30 PM
Saturday–Sunday: Closed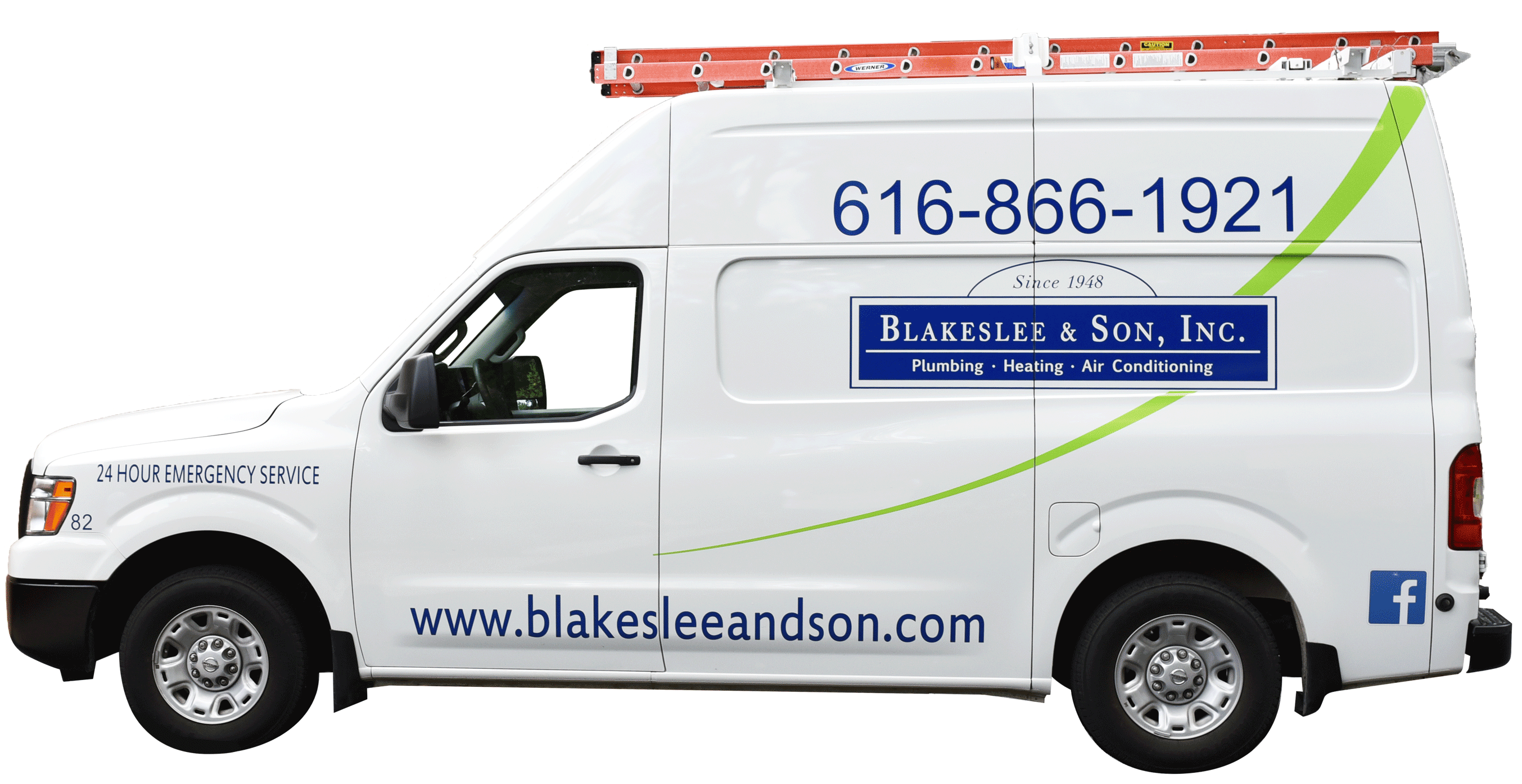 Emergency Service
Available Every Day from 8 AM – 8 PM

---

Get Immediate Water Heater Repair
Without hot water? Call us any time. We'll be on the way as soon as possible!
Call 616-866-1921
Tankless Water Heater Repair, Replacement & Maintenance
Whether you're replacing a traditional tank water heater with a tankless or need service for your current tankless water heater, our service technicians are nothing but helpful to provide you with honest, professional tankless water heater service.
On-Demand (Tankless) Water Heater Installer.
We are certified and experienced in installation. We a
Navien
preferred tankless water heater installer here in West Michigan!
On-Demand (Tankless) Water Heater Service Provider.
Like all appliances do, tankless water heaters may need repairs or replacement parts as they age. You can trust us to get the job done right.
On-Demand (Tankless) Water Heater Maintenance Specialist.
Depending on your water hardness, your water heater may need to be flushed 1-2 times per year as well as other regular maintenance.
See how you can keep maintenance at a minimum with your tankless water heater.
A Tankless Water Heater's Benefits for Your Home
Is your water tank on its last leg? Consider replacing it with a tankless water heater instead of putting money into repairs or into the same type of tank. A tankless unit is energy-saving and can help you save money over the lifetime of the heater. A tankless offers these benefits:
Endless hot water to your home
Virtually no maintenance required
High efficiency keeps your utility bills low
Conveniently sized to take up very little space
Provides hot water to remote points of your house
Rather than providing a limited number of heated gallons of water at a time, a tankless unit delivers a continuous flow of hot water without a storage tank. It does this by passing cold water through its heat exchanger and then heating the water with its heating element.
See if a tankless water heater is a worthwhile investment for you.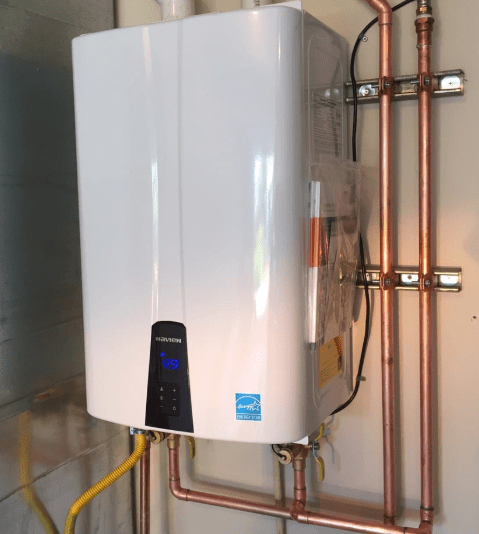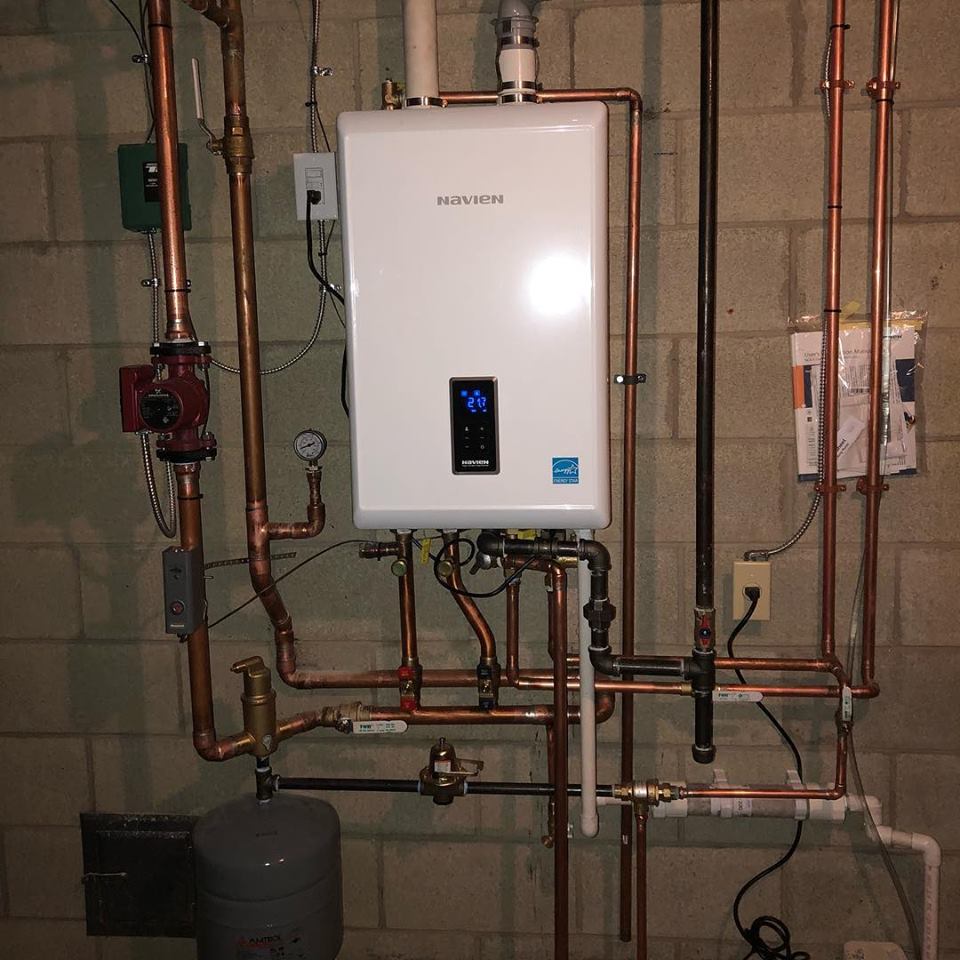 Rockford's Preferred Professional Installers of the Navien On-Demand Water Heater
You can trust us with your tankless water heater installation as Rockford, Michigan's preferred professional installers of the Navien tankless water heater brand.
Ready to find the best tankless water heater for your home? We'll help you find the best on-demand water heater for your unique living situation from their wide selection of energy-efficient units.
Send us a Message
Call us at 616-866-1921
Installing a Water Softener: Maximizing On-Demand Water Heater Efficiency
To prevent scale and buildup, get you the highest efficiency benefits, and give you the longest lifespan out of your investment, we recommend you have a water softener for the best performance of your on-demand water heater. 
Water softener installation is one of our plumbing services. Let us know how we can help you get the most out of your appliances!
Helpful, Professional, Honest Service—Done to Last
Since our humble roots here in West Michigan in 1948, our motto has been "Helpful, Professional, Honest." Beginning with our founder Clarence Blakeslee ("Mr. Rockford"), these values are instilled in us and are our singular focus in everything we do.
75+ Years Serving Rockford & West Michigan
Emergency Service Every Day
Financing Offered for All Installations and Services
We Don't Leave You without a Solution or Fix
The Blakeslee Guarantee
When you work with Blakeslee, you have our guarantee that you'll get:
10-year warranty

on Blakeslee parts and labor

5-year

warranty on Navien on-demand water heaters

1-year

parts and labor warranty on service calls for Peak Protection Plan members

30 days

parts and labor warranty on service calls for non-members

Financing options on all installations and services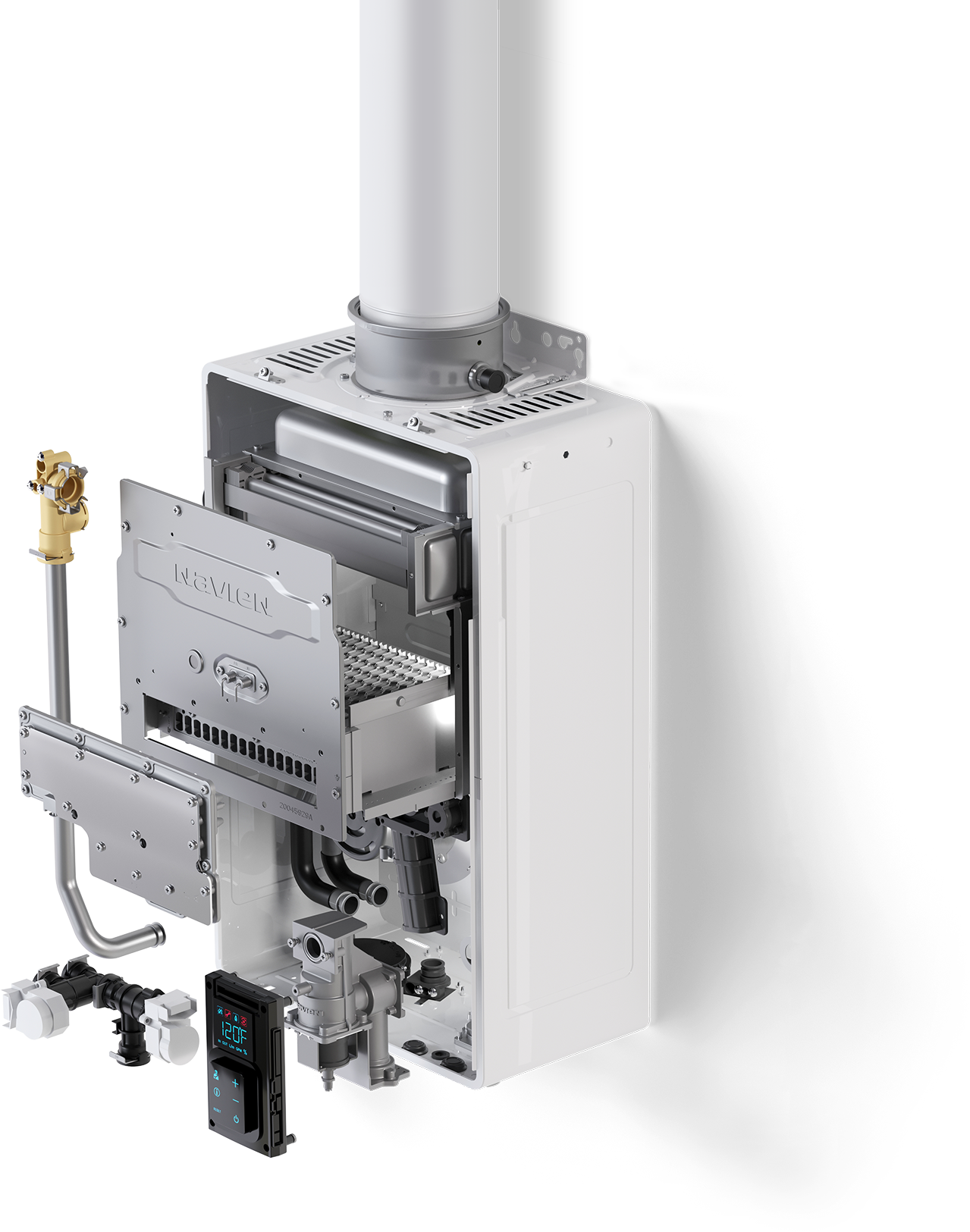 On-Demand Water Heater FAQs
Everyone's home and living situation is different, and so every homeowner values different things when it comes to a hot water heater. However, there are a few things that everyone looks for in a water heater—and a tankless water heater delivers.
Pros: 
Energy Efficiency Benefits for All.

According to

Energy.gov

, "for homes that use 41 gallons or less of hot water daily, on-demand water heaters can be 24-34% more energy-efficient than conventional storage tank water heaters. They can be 8-14% more energy efficient for homes that use a lot of hot water—around 86 gallons per day."

Taking Up Less Space.

Around 17" wide by 28" high by 13" deep, a typical tankless water heater can tuck quietly away in a cabinet or even under a countertop.

Immediate Hot Water Supply.

Because there's no storage tank, there's no waiting for another supply of water to heat up. As soon as you turn on your faucet or shower, the water will heat immediately!

Longer Lasting.

Tankless water heaters last anywhere from 15 to 20 years, compared to tank heaters' average working life of 10 years or less.
Cons:
Price.

Tankless water heaters will cost you more to install than traditional tank water heaters, and the price varies based on additional features. It will take time for the energy efficiency benefits to pay back the initial price tag.

Maintenance & Performance.

Your tankless water heater will function best with soft water. You will need to maintain your tankless system regularly and may run into issues when you have hard water.

Supplying Larger Properties. If you have a large home, you may need to install more than one tankless system to keep up with your family's need, or invest in a tankless water heater with a very high flow rate.
There are several different types of tankless water heaters, each differentiated by the way they heat and their features. As such, they command different prices to install. The different types include: 
Gas Tankless Water Heaters

Electric Tankless Water Heaters

Condensing Tankless Water Heaters

Non-Condensing Tankless Water Heaters
We'll help you make a decision that's right for your family and how you live. 
Call Us, and We're On The Way!
We provide tankless water heater services in these and other communities throughout West Michigan: